Lincoln Land Animal Clinic, Ltd
1150 Tendick
Jacksonville, IL 62650
(217)245-9508
lincolnlandac.com
Food Puzzles and Toys
Food puzzles and toys are available in many shapes, sizes, and levels of difficulty. In addition to keeping your pet busy, food puzzles allow for more natural foraging behaviors and provide a wonderful source of enrichment for your pet. Try feeding your pet their meals in a food puzzle instead of a bowl.**
Initially the food puzzles need to be very easy so that your pet achieves success with very little effort. It is very important that your pet learns how to use the food puzzle during non-stressful times. As your pet becomes more experienced using food puzzles, gradually make them more challenging.
Since food puzzles are mentally stimulating they might help reduce the undesirable behaviors resulting from boredom, frustration, and anxiety. It is always best to provide your pet with something you deem appropriate for them to do, instead of letting them decide what to do!
Videos of the toy being used can be found by clicking on the highlighted product name. Not all of the toys have videos yet.
** With any new toy, please supervise your pet until you are sure they are not going to destroy and eat the toy before leaving it with your pet while they are unattended. Inspect the toy regularly and replace it if it shows signs of wear and tear.
Tricky Treat Ball
This food toy is well-suited for herding type breeds that like to use t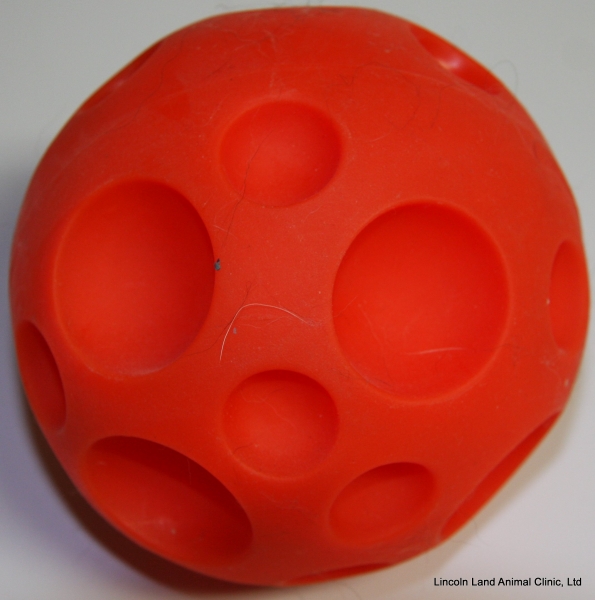 heir noses to push things around. As your pet pushes the ball around, treats will randomly fall out. Tricky Treat Ball is not appropriate for dogs with high chew drive. Please use supervision if you choose this food toy for your super chewer! This is a novice food toy.
Buster Cube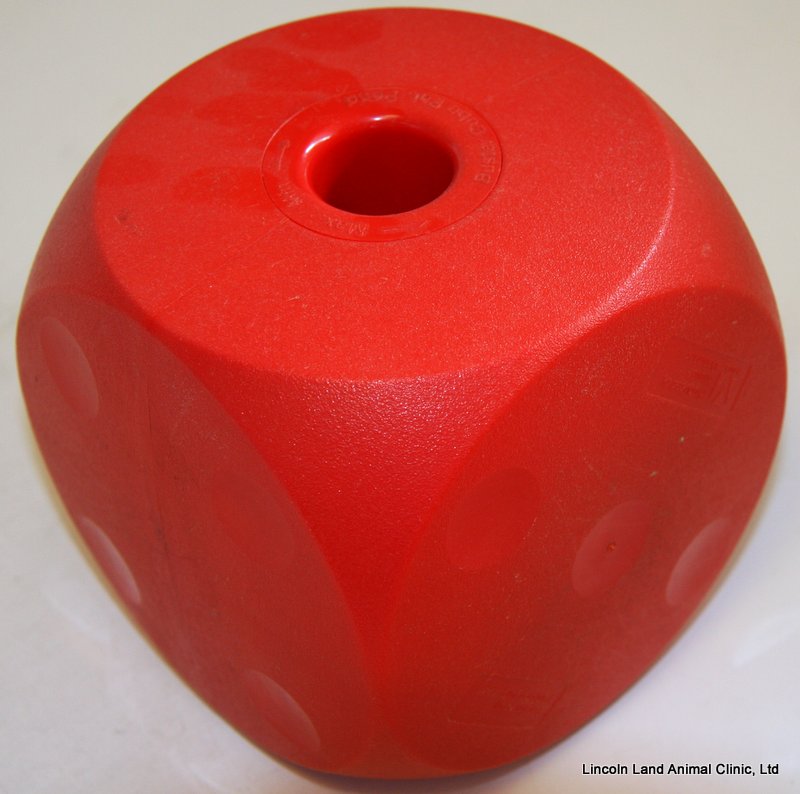 If your pet prefers to use paw action to bat items around, this is the perfect toy. As your pet paws the cube, turning it from side to side treats will sporadically fall out. This is an intermediate food toy. The level of difficulty can be increased by adjusting the flow rate.
KONG products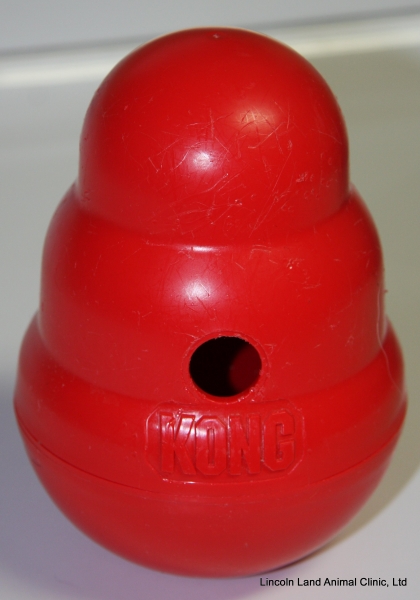 There are many varieties of kong food puzzles. There is sure to be one that your pet will enjoy!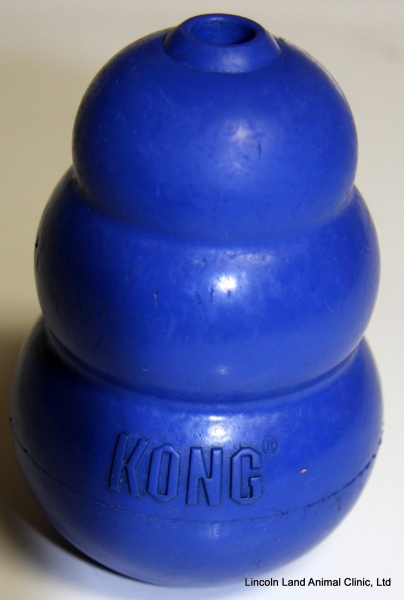 The basic blue Kong is a favorite at the clinic, we have a stash of them filled and frozen to help soothe dogs that may be stressed while in the hospital. For some pups, the food frozen in the kong is too difficult. Using room temperature Kong stuffin' with some dog food makes it much easier to get the food out. The blue Kongs are soft and flexible, yet hold up to even our toughest chewers!

For more advanced pups we love the kong wobbler. Simply place their food in the wobbler and watch your pet knock it around to get the food out. This is an intermediate food puzzle. The wobbler has held up with some of our very exuberant chewers! Left unattended, some dogs will chew the wobbler.
Squirrel Dude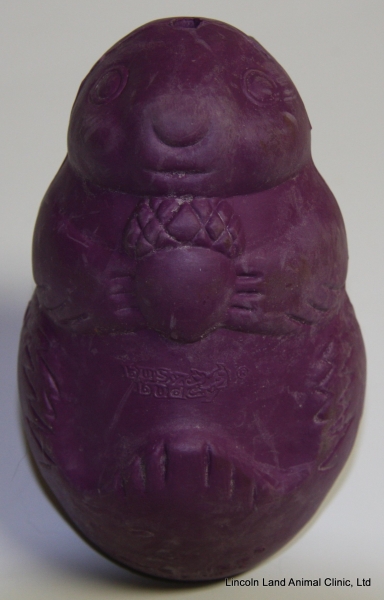 This food puzzle is designed for pets that like to chew and bounce things. The Squirrel Dude's awkward shape makes for unpredictable treat dispensing fun as your pet works to get the tasty reward. This food toy provides a higher level of difficulty.

The Pickle
The pickle is a softer toy, but has performed well in consultations and in homes with some pretty exuberant chewers! You can use soft food in the grooves so the pet has to "lick" the goodies out or place kibble in the grooves and let them chomp to crunch the kibble.
Caitec's Chase and Grab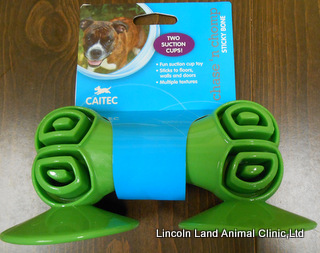 This is a rock star toy! It is durable, stays in place on metal, porcelin, and laminate surfaces (to be fair the only surface that we tried it on that it did not do as well was painted). Food is placed in the tiny grooves. We have used it for nail trims, vaccinations, brush-outs, ear cleaning, physical exams, and baths. During each procedure the pet was happily distracted and working to remove the food. We will continue to test the limits of this toy! Check out the video by following this link.
Here are some pictures of some other food puzzles.