Lincoln Land Animal Clinic, Ltd
1150 Tendick
Jacksonville, IL 62650
(217)245-9508
lincolnlandac.com
What's New

Frequent visitors will enjoy the "What's New" page featuring all of the latest news and links to updated information throughout the site. If this is your first visit, we would like to welcome you!
Join happy clients and patients from all over central Illinois, including Jacksonville, Springfield, Decatur, Chapin, Waverly, Greenfield, Murrayville, Woodson, Roodhouse, Winchester, Quincy, Virginia, Chandlerville, Beardstown, Mt. Sterling, Rushville, Frederick, Browning, Chatham, Rochester, Pleasant Plains, Ashland and many towns in between at Lincoln Land Animal Clinic!
Check out our August page!

Tis' the season for Thunderstorms and Fireworks
If you and your pet dread thunderstorms and fireworks help is available! Please check out our Noise & Thunderstorm Phobia page. If you have a new pup and want them to prepare them for the upcoming "noise" season please check out Preventing Noise Phobia for helpful hints. These hints also work for anything your pup might be afraid of!
Summer is HERE!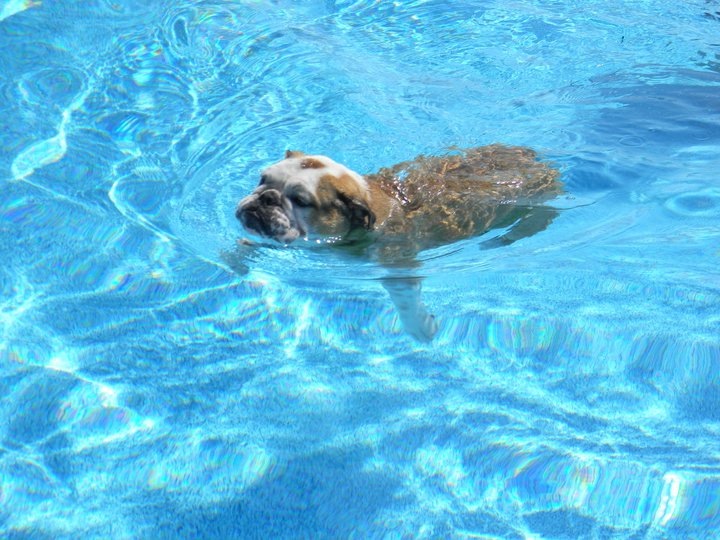 It is tempting to allow your pet to swim in the pool, it can even be a nice way to help them cool down! Follow this link to learn how to keep your pet safe in the pool!
We welcome the arrival of summer but the warmer weather brings with it the caution of parasites and allergies. Keep you pets protected against fleas, ticks, and worms. If you are not sure which products are best for your pets, ask us, the prevention experts! Want to become an expert yourself? Jump on over to our pages about fleas, intestinal parasites (worms) or heartworms. With the warm winter and flood last fall parasites are sure to be on the rise this year.this link to learn more about pool safety and pets!

Did you know there is an injectable flea product that lasts 6 months! This is a great product for people that have flea infestations, pets with flea allergies, or people that just want to say," NO!" to fleas. This great product is only available for cats. Please contact our wonderful team for more information.
Flowers are in bloom, and so are allergens! Just like us, pets can have seasonal allergies. Pets with allergies may show symptoms of cough, nasal or eye drainage, skin irritation, itchiness, or hot spots. If your pet experiences any of these symptoms, please schedule an appointment. We have several oral medications, topical creams and serums and medicated shampoos that can help relieve these allergy problems.
Getting a New Pet?
If you are thinking of getting a new pet this spring, we are happy to help you choose the right pet for your lifestyle. Each species and breed has different requirements for exercise, grooming and health care needs. It is important to understand these things before bringing home a new pet. If you would like to do research on your own, check out our pet selection links! "Becoming a Dog Owner" links to several articles including how to prepare for being a pet owner, the cost of owning a pet, and choosing the right pet for you. The other two links provide information on avoiding puppy mills and how to find a reputable breeder. Looking to rescue a pet? Search local adoptable pets on our petfinder.com feed.
Behavior Programs - click here for details
Spa Day Training
Private training lessons for any behavior (heeling, sitting, doorbell ettiquette, jumping, or any thing else you would like trained) are available and can be scheduled at your convenience. Call 245-9508 for details.
Memorial Page We have recently added a memorial page dedicated to our beloved friends who are no longer with us. If you have lost a pet and would like to submit a photo or memory, please email llanimalclinic@yahoo.com. This page also contains words of inspiration and resources for grief counseling.
Summer Fun! Summer is a lot of fun for everyone- please note the following safety tips.
Please make sure you pet has water at all times. It does not take long for a pet to get overheated!
If you are traveling with your pet make sure:

They are up to date on their vaccinations, heartworm preventative, and flea and tick prevention. This will help keep your pet safe. The bonus? If you should have to board them or get them groomed in an emergency you will know they are current on their preventative care. Ask our great team members to provide you with a copy of the vaccination status to keep in your glove box!
Your pet has identification in case they should get lost, escape, or you are in an accident. Identification tags are great, microchips are permanent and do not come off. Take a picture with your cell phone or camera so you have an current photo. We all have the cute pictures of our pets but for identification think mug shot- from the front and both sides!
Click here for a Pets and Disaster Checklist from the America Red Cross
Pictures!! Would you like to have your pet featured on our facebook page or website? Please submit pictures to llacpictures@yahoo.com.