Lincoln Land Animal Clinic, Ltd
1150 Tendick
Jacksonville, IL 62650
(217)245-9508
lincolnlandac.com
Certified Veterinary Technicians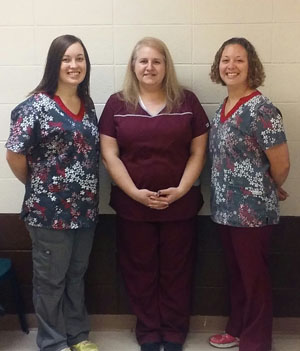 Certified veterinary technicians serve the role in veterinary medicine that registered nurses do in human medicine.
Our technicians are graduates with associate degrees in Animal Health Technology and are registered with the State of Illinois.
Certified Veterinary Technicians are trained in such areas as pet anatomy and physiology, parasitology, radiology, anesthesia and surgical assistance, nutrition, and dentistry and so much more.
Our CVT's attend CE conferences and skill training classes on a regular basis to learn and practice nursing techniques and keep up with the latest and best care available.
Lincoln Land Animal Clinic is proud to say that we are the only practice in Jacksonville that has a certified veterinary technician.
Certified Veterinary Technicians vs Veterinary Technician
What is the difference?

There is a huge difference in quality, training and well being for your pet.
It would be the difference between someone going to nursing school and through all the training, testing and licensing and being called nurse versus someone who wanted to go nursing school but never did, they just worked in a hospital or doctors office.
There are many people who may claim to be veterinary technicians but they have not gone to school and are not certified through the state licensing board. This diminishes the value of a true certified veterinary technician, their care, compassion, and knowledge.