Lincoln Land Animal Clinic, Ltd
1150 Tendick
Jacksonville, IL 62650
(217)245-9508
lincolnlandac.com
Our Doctors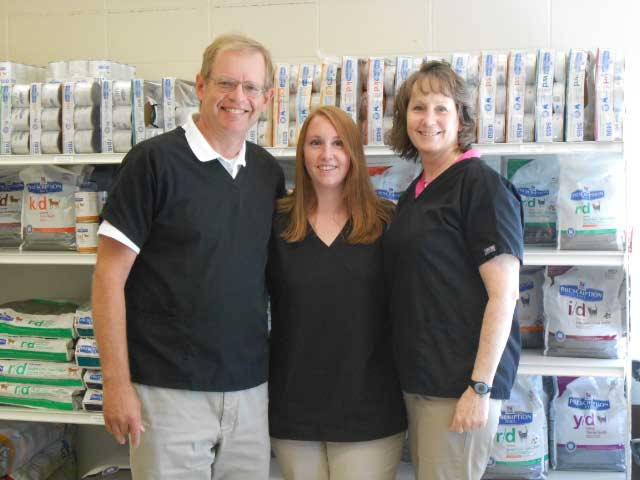 Our Doctors are setting a new standard for care, compassion, and commitment.
They take continuing education courses to further their expertise and knowledge so that they can provide the most current medical care for your four legged family member.

Our doctors are firm believers in mentorship and education. They mentor veterninary students from the University of Illinois College of Veterinary Medicine, as well as college students from MacMurray and Illinois. They are also a clinical training site for John Woods Community College Veterinary Assistant Program. They give talks and demonstrations to various groups and organizations on just about any veterinary subject.

Dr. Joseph Koch has been a part of the practice since 1989.
Lincoln Land Animal Clinic had been a strictly large animal practice. Dr. Joe missed the small animal side of practice when he joined Lincoln Land Animal Clinic, so he started seeing small animals. Since then the small animal side has grown tremendously, as has Dr, Joe's reputation for his kind and gentle demeanor.

Dr. Colleen Koch joined the Lincoln Land Animal Clinic team in 2001. Dr. Colleen enjoys the medical challenges of small animal medicine as well as the days outside on farm calls. She is also has a strong interest in positive pet training and preventing behavior problems. Dr. Colleen is a resident of the American College of Veterinary Behaviorists with Dr. Valarie Tynes as her mentor. She sees behavior patients at our clinic and for the University of Missouri College of Veterinary Medicine at their satellite clinic~ Mizzou Animal Cancer Care in Wentzville, MO.

Dr. Linda Harmon-Dodge is a veterinarian that went on to get certified in veterinary acupuncture and chiropractic medicine. She comes to the clinic monthly to provide her services for both small animals and horses. Dr. Linda also provides relief services for Dr. Colleen and Dr. Joe when they must be away from the clinic. Her familiarity with our clinic and patients makes everyone feel comfortable while the Dr Koch's are away. For more information about Dr. Linda's services, please visit her website.
Dr. Jennifer Artis joined our team June 2011 after graduating from The University of Illinois College of Veterinary Medicine. Some of you may recall seeing Dr. Banks here years ago. She is actually a Jacksonville native and worked here as a kennel assistant, receptionist, and veterinary assistant while she earned her Bachelor's Degree in Biology and Chemistry from Illinois College.

Meet our certified veterinary technicians and our customer service specialists.