Lincoln Land Animal Clinic, Ltd
1150 Tendick
Jacksonville, IL 62650
(217)245-9508
lincolnlandac.com
Maggie Willing, CVT
Maggie was the first certified veterinary technician that we hired. She graduated from Parkland College of Champaign, IL in 2000.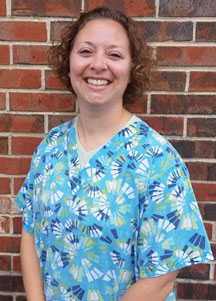 Maggie taught us that certified vet techs are indispensable! She does everything from obtaining histories and doing preliminary physical exams, collecting blood and placing IV catheters, taking and processing radiographs, performing dental cleanings, preparing surgical patients and suites, remaining in constant contact with sick and injured patients, as well as following up with owners on recommended care and so many other things!
Maggie is known among our team and clients for seeing the situation from the pet's perspective and adjusting her methods to make the patient more comfortable.
Her career goal is to provide the most compassionate, up to date standard of care while taking into consideration the family's goals and choices for their pet.
She shares her home in rural Cass County with her husband, Mike, sons, Bryce and Bradyn, and her Labrador Retriever.
She enjoys hunting, fishing, riding four wheelers, vegetable and flower gardening, and watching her boys' baseball teams.

Maggie was joined by Jen, and Kari to comprise our dream team of veterinary technicians.