Lincoln Land Animal Clinic, Ltd
1150 Tendick
Jacksonville, IL 62650
(217)245-9508
lincolnlandac.com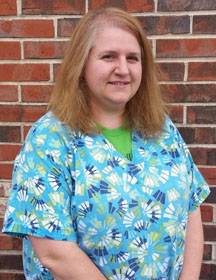 Jennifer Schofield, CVT
Jennifer is a certified veterinary technician. She graduated from Blackburn College in 1999 with a degree in Biology. She came to work for us that same year. We decided that we really needed another certified veterinary technician and Jen took on that challenge. She graduated from St. Petersburg College with her Veterinary Technician Degree in 2005.

Like Maggie, Jen is indispensable. She took on all the vet tech responsibilities of obtaining histories and doing preliminary physical exams, collecting blood, taking radiographs, assisting in surgeries, and so many other things!

Jennifer is also our inventory control specialist. If we need it she finds it.


Jen, Maggie, and Kari comprise our veterinary technician dream team!

Meet our Customer Service Team