Lincoln Land Animal Clinic, Ltd
1150 Tendick
Jacksonville, IL 62650
(217)245-9508
lincolnlandac.com
Dr. Linda Harmon- Dodge works for Arthur Veterinary Clinic and they are gracious enough to let her come to our practice to treat our patients. Dr Linda also does our relief work should we need to be out of the office for extended periods of time.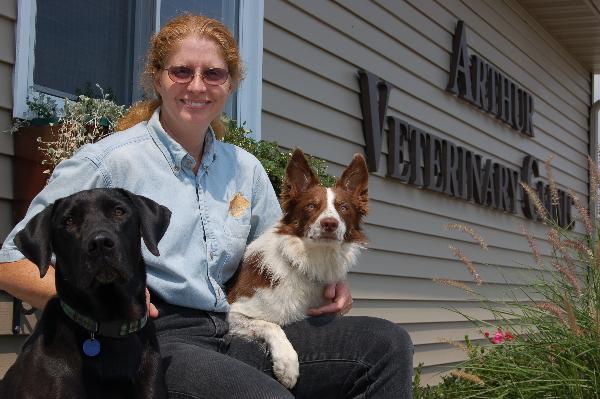 She was raised on a farm with her three brothers near Morrisonville, IL. They raised corn, beans, purebred hogs, and sheep. She talked her parents into her first horse when she was 10 years old. Animals have always played an important role in her life; she raised the orphan pigs and lambs as well as tried to save every sick animal she could drag home including a fawn deer and a lost cow. Dr.Linda decided at the age of four to become a veterinarian and has never regretted that decision. Her family was very involved in the local 4-H program which furthered her background in animal husbandry. Her brothers helped pay for their college education through raising and selling purebred swine. Her earnings from the hogs went towards her passion of horses. She started showing and training hunter jumping horses at an early age and continued until she started veterinary school.
Dr.Linda is a 1990 graduate of the University Of Illinois College Of Veterinary Medicine. She began a large animal practice in Newton, IA where she met her husband, Jack Dodge. They returned to Illinois to a mixed animal practice and then in 1996, joined Dr. Lisa Eller at the Arthur Veterinary Clinic. In 1998, she began training for animal chiropractic and veterinary acupuncture which is now her greatest passion in veterinary medicine. Her interest in complimentary medicine often has her traveling much of the state. This allows her to care for a large number of patients and improve their quality of life. Each day she wakes up as a veterinarian is a good day; she can't imagine any other profession. The staff and veterinarians at the Arthur Veterinary Clinic are not only her colleagues, they are also friends and family, a greater group of people does not exist.
Dr.Linda and Jack and are new grandparents of the world's cutest grandson, Jared, who lives in Iowa with his parents. They, along with her father, have been raising, breeding, and showing Clydesdale horses for the last 11 years. Presently, they share their farm with 13 horses, 5 or 6 cats, and the dogs, Tootsie and Jerry. Dr.Linda's hobby is showing Clydesdales while her husband's is pulling antique tractors. Their interests led to the formation of Iron Horse Farm which is becoming nationally known for quality horses.
For more information, visit Dr.Linda's website.