Lincoln Land Animal Clinic, Ltd
1150 Tendick
Jacksonville, IL 62650
(217)245-9508
lincolnlandac.com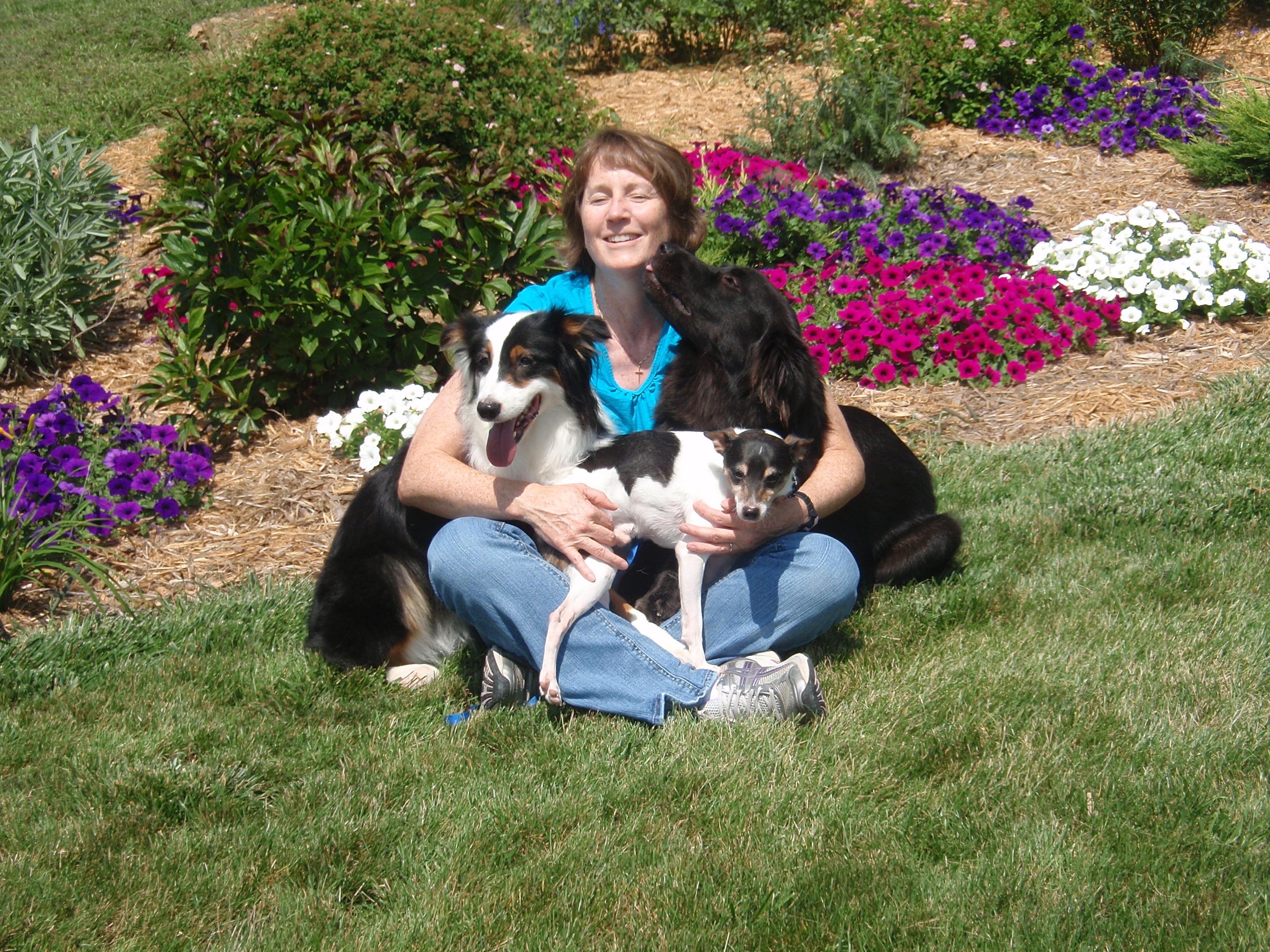 Dr.Colleen Koch with
Panda, Scooter and Ben
Dr. Colleen was raised on the east coast- a city girl with a country heart. She loved animals- all animals. When she was in kindergarten she went to visit a dairy farm- she thought taking care of all those animals would be the life!

Her parents weren't really the animal types, and it took a lot of commitment and convincing that the family needed a dog. Dr.Colleen was always bringing home strays- geese, racoons, and once even a lost pony! Her Mom would call the humane society and have them gone before she would get home from school. Except for the pony- it took over a week to find the owners!

Needless to say, she has wanted to be a vet even before that very first visit to the dairy farm. Dr.Colleen graduated from Virginia Tech with a degree in Biochemistry and Nutrition and then came to the mid-west in 1986 to go to vet school.

In 1990, she graduated from the University of Illinois College of Veterinary Medicine. She practiced primarily small animal medicine in Petersburg, and started her own equine practice on the side.

In 1993, she left Petersburg and worked primarily in her equine practice and helped Dr. Joe occasionally at Lincoln Land Animal Clinic. In 2000, Dr.Colleen went back to the University of Illinois and completed the Executive Veterinary Program. In 2000, she joined the team at Lincoln Land Animal Clinic and the equine practice was merged with Lincoln Land. It was a wonderful thing as it allowed her to continue working with both small animals and horses.
Dr.Colleen is a very strong proponent of education of both people and pets. She frequently gives talks and demonstrations to many different organizations, veterinary clinics, as well as children from pre-school to college age and beyond. She is confident that educating people is the key to humane and responsible pet ownership. Education results in pets living longer and healthier lives, as well as reducing the numbers of animals that are euthanized every year.
She graduated with distinction from the Karen Pryor Clicker Training Academy. This is an exceptional way to help train animals, especially those that have fears and anxieties. Dr.Colleen is now incorporating these techniques into her behavioral counseling and is training our team as well.
In 2013, Dr. Colleen is back in school again. She is officially a resident in private practice training for the American College of Veterinary Behaviorists. Dr. Colleen has always had a passion for training and working with animals that are described as "difficult." She enjoys working with animals to restore the human animal bond and improve inter-species communication. Dr. Colleen is also a behavior consultant for the Mizzou Animal Behavior Clinic at the University of Missouri College of Veterinary Medicine, located at the Mizzou Animal Cancer Care facility in Wentzville, MO.
This is her dog- Panda Jean Bear. Dr.Colleen's kids said she had to have a middle name for when she was bad! Panda came to her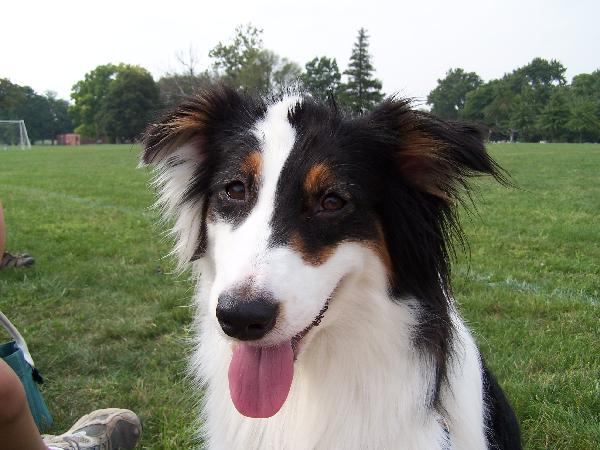 as a very sick abandoned puppy to be euthanized by a neighbor who couldn't find the owners. The poor starving fluff ball (that was after we gave her a bath to remove all the evidence of being abandoned) quickly weaseled her way into Dr.Colleen's heart. She has psychological scars from those early days, but they have a great time together. She is a lot of fun and they enjoyed doing agility together. Recycled dogs are a great thing!

Dr.Colleen met Dr Joe at the University of IL and they married in 1988. They have two beautiful, intelligent, and athletic girls ( she is not biased).

The Doctors also share their house with three dogs- Panda (featured above), Scooter, and a another rescue- Ben Jamin Bear. (Ben Jamin Bear was picked up at a behavior seminar where Dr.Colleen was learning how to educate owners on how to make their pets gentle and be positive pet parents. A local rescue group had brought their puppies and dogs for the vets to practice the training techniques. Well, he also weaseled his way into their hearts and home.)

Their favorite cat- Fuzzy Hairy was euthanized in 2007 due to lymphoma. He was the best cat ever and is missed.
Their horse, named Rysa, is now living with a young girl who promises to spoil her rotten.