Lincoln Land Animal Clinic, Ltd
1150 Tendick
Jacksonville, IL 62650
(217)245-9508
lincolnlandac.com
Cassi Evans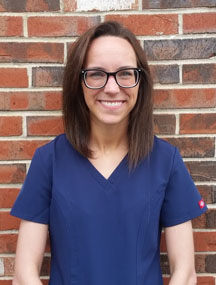 Cassi joined our team in November 2015. She received her bachelor's degree in Animal Science and Agribusiness from Southeast Missouri State University. While there she worked on a horse farm and was involved in the school's cattle farm. Cassi also has a love for small animals and is currently taking classes online at Purdue University to become certified as a technician.
She has 3 pets of her own: a German Shepherd, Lambeau and 2 cats, Minerva and a Himalayan named Hattie. Her dream is to move out to the country and start a little farm of her own.
You usually can find Cassi at the front desk helping with phone calls and scheduling appointments or in the back assisting the technicians and veterinarians with anything they need.